It's beginning to look a lot like Christmas at the Leahy's. I just couldn't wait any longer, I had to get my decor up. My family and I love Christmas so much and by having it up early, we get to enjoy it longer.
This year we're in a new home, in a different state and have different furniture and vibe of the room. Do you remember it from last year? I can add a pic for of it down below.
I've been decorating a lot of boho and a little farm…. aka Farmhemien. I love the boho, minimalist vibes but had a lot of farmhouse decor from our California home. I kept some pieces, got rid of a lot of pieces, and have been having a blast hunting for a ton of boho style pieces.
Ok without further ado… here is our living room all ready for Christmas.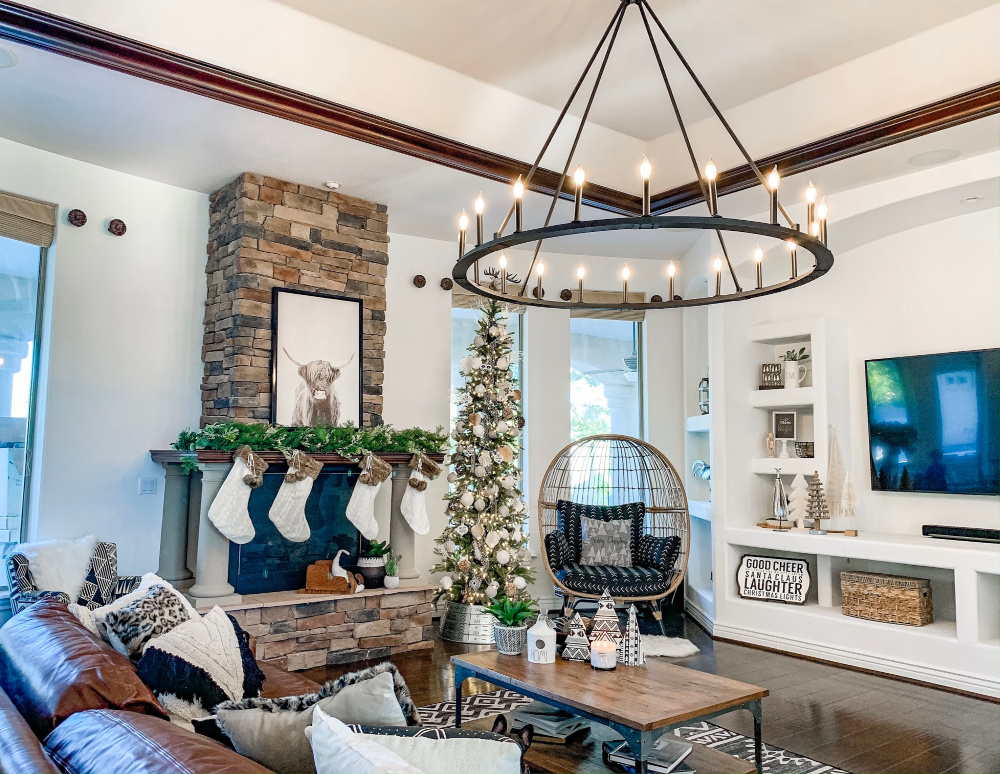 We're loving the neutral decor and how it flows with the rest of the house. Let me get closer up…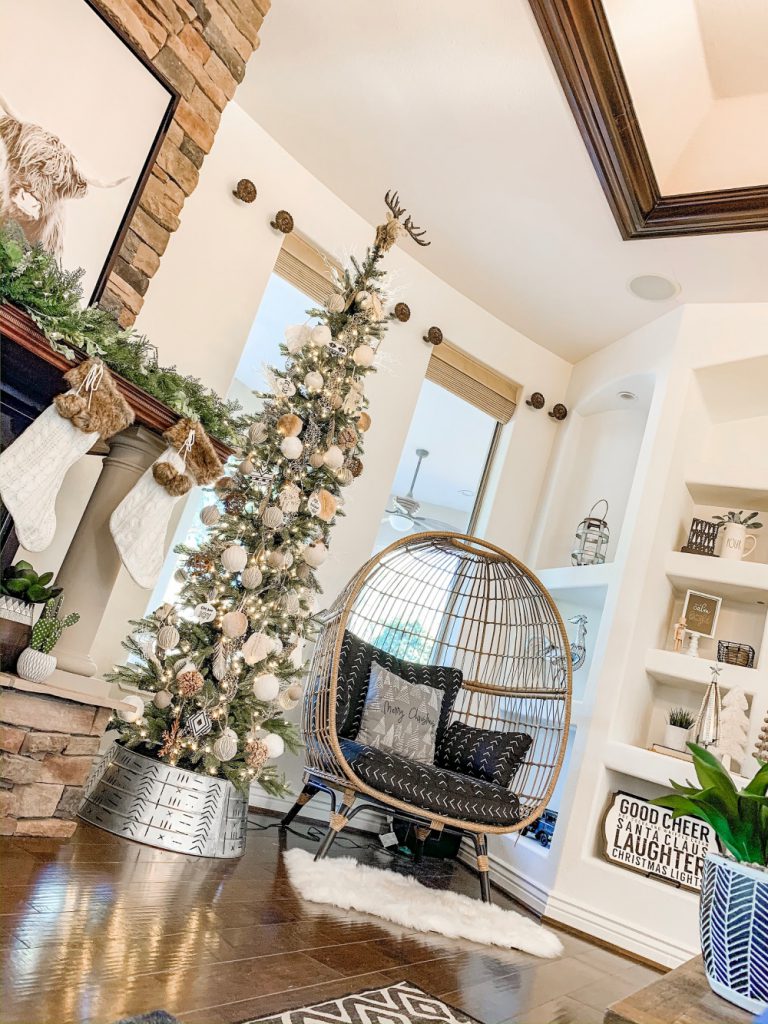 Here is a closer look at our Christmas Tree. It's from Balsam Hill. We went with the 9ft Cathedral. I debated on which tree and which size to go with but I really wanted a narrow one so that we didn't have to move the Egg Chair. We use the chair all the time and don't have another space for it in this room. I think the tree with the chair ended up being a perfect fit.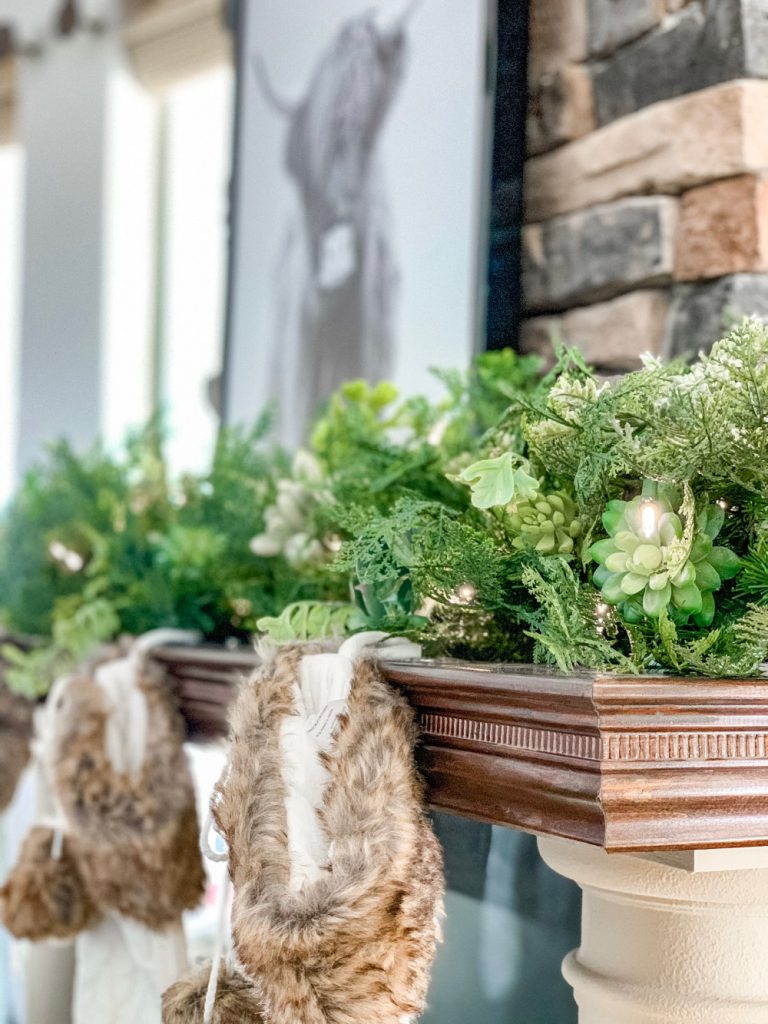 While shopping for the tree online, I decided to browse the garland section. BOOM! This winter succulent garland jumped right out at me. I had to have it. It just gave me all the boho Arizonian vibes and I thought it would be perfect for the mantle.
Many have asked on FB and IG about the stockings… they are from Michaels and they are attached the mantle with small clear command hooks. They work perfect and not an eye sore.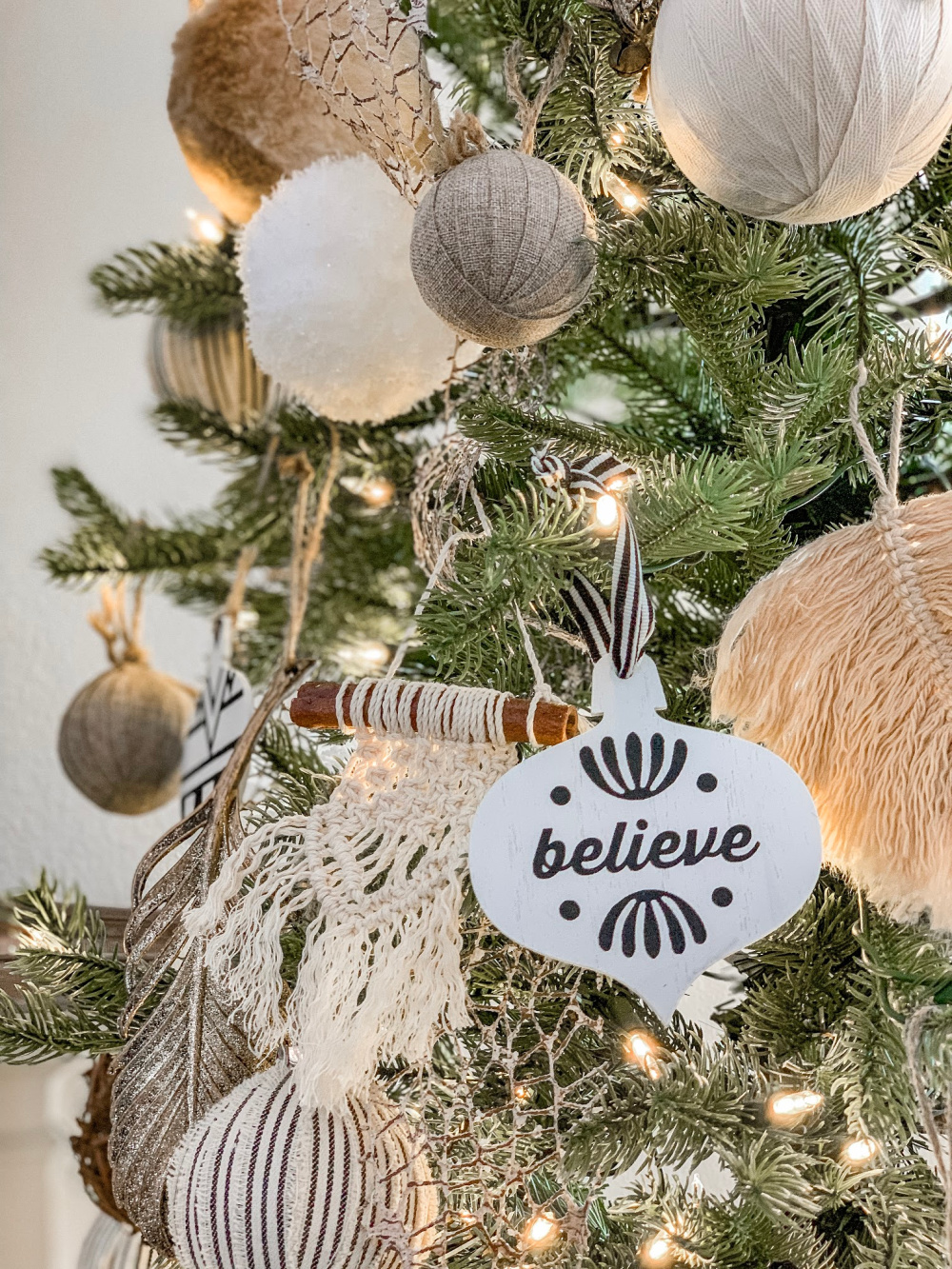 The ornaments are a mix of handmade, Rae Dunn and some that I purchased at Hobby Lobby. The gorgeous macrame ornaments were made by my talented mom. Didn't she do amazing?! I showed her a few that I liked and next thing you know I had a boxed shipped to me with about 10 gorgeous handmade macrame ornaments from her. They're all pretty drool worthy if you ask me.
The wood ornaments were ones that I made. I had a blast chalking those. The mini wood ornaments come in a pack of 12 and can be found here, and then I chalked on them using this warm wishes silk screen transfer from Chalk Couture found here and black Chalkology Paste found here.
I actually have a video of me making these if you'd like to check out the process: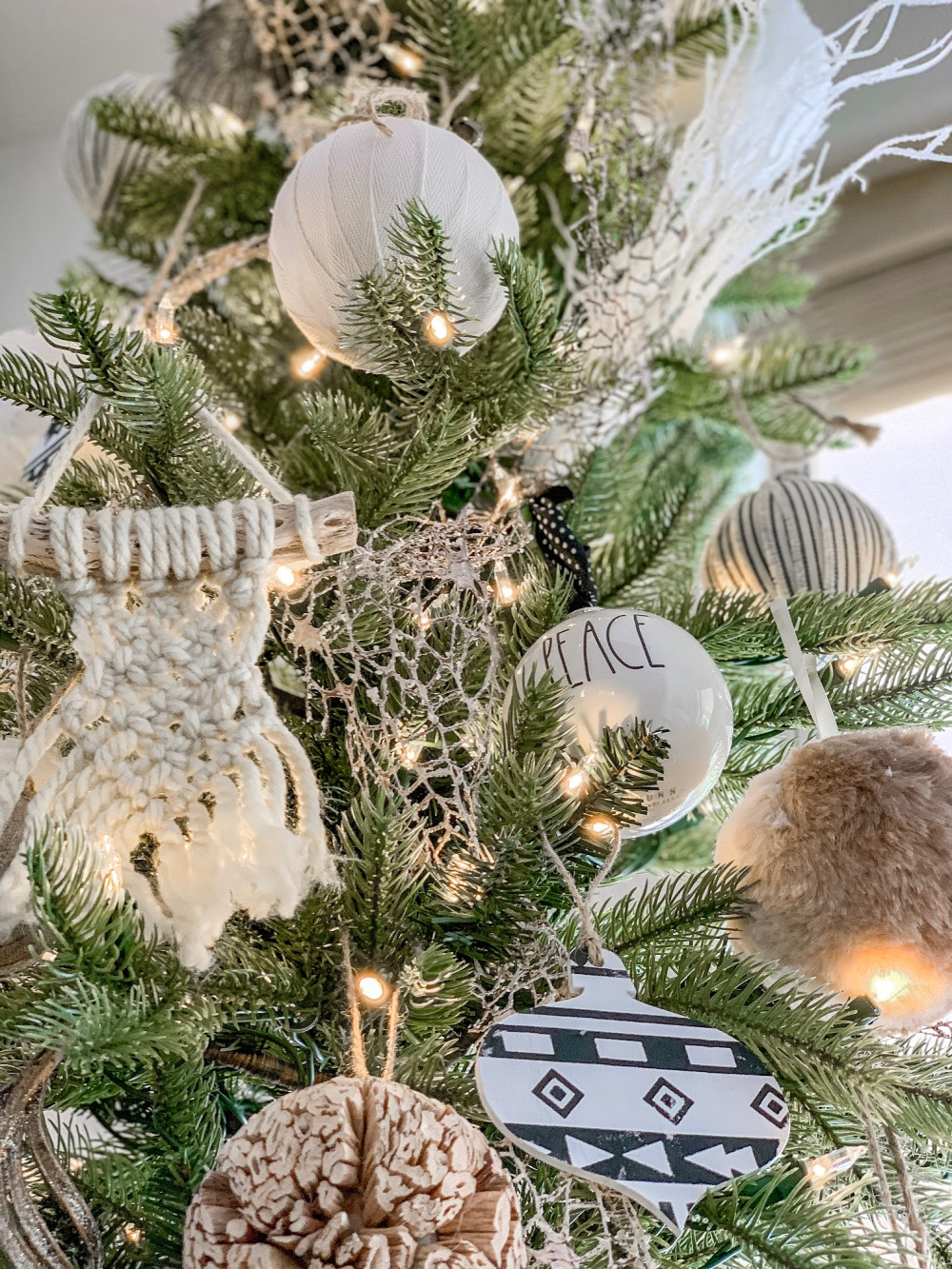 For these wood ornaments, I used my favorite Southwest Motif Transfer from Chalk Couture, found here. It's my all time favorite to use. I even used it to chalk the Christmas Tree Wood Cut outs that are sitting on the table.
Here is a peek at those trees…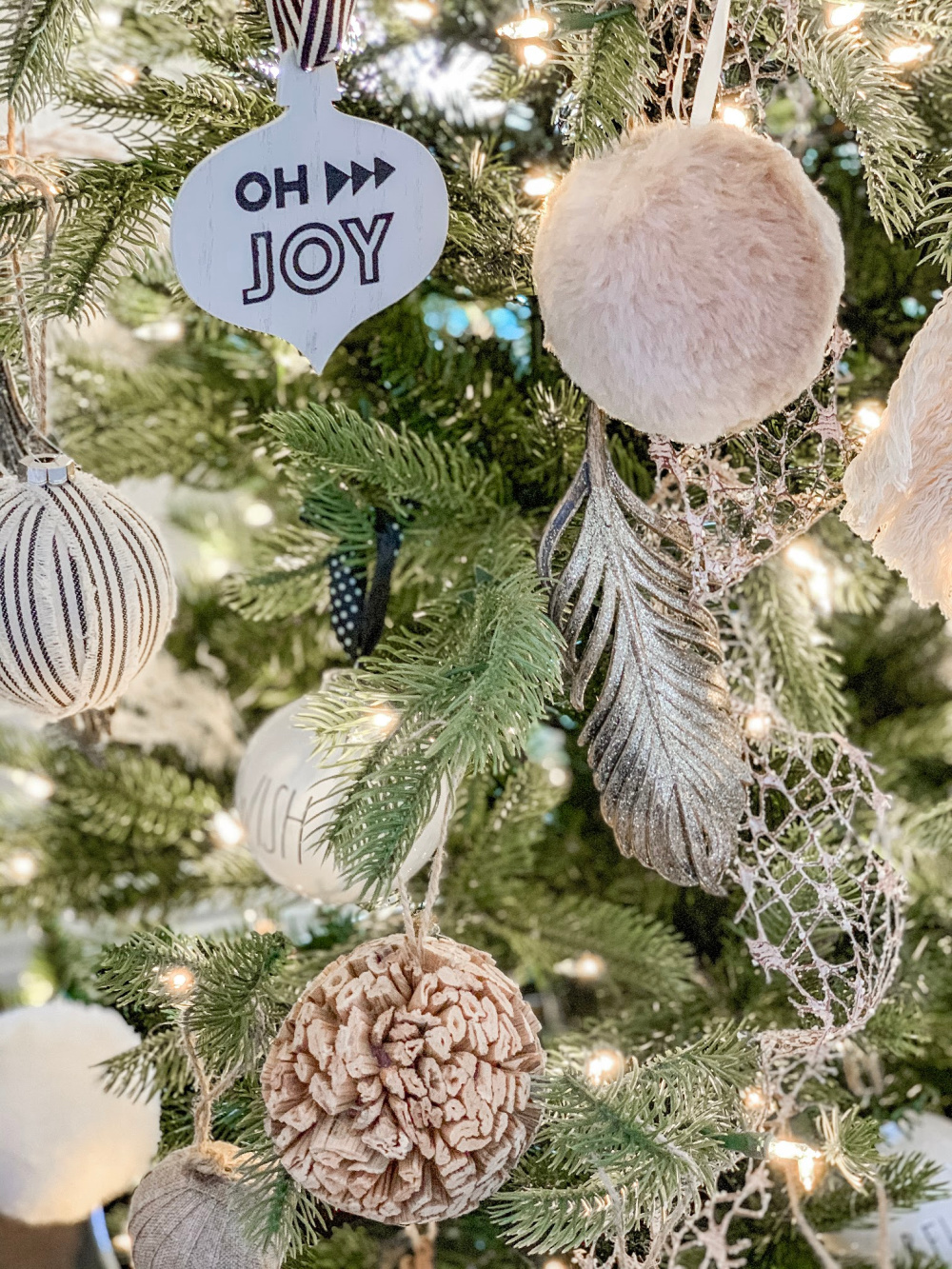 Gahh… look at those feathers. I love them. They even shimmer. Ohhh Hobby Lobby, you had some good stuff this year. Are you Hobby Lobby obsessed too?! I love long walks down the aisles of HL looking for things I could chalk on or decorate with.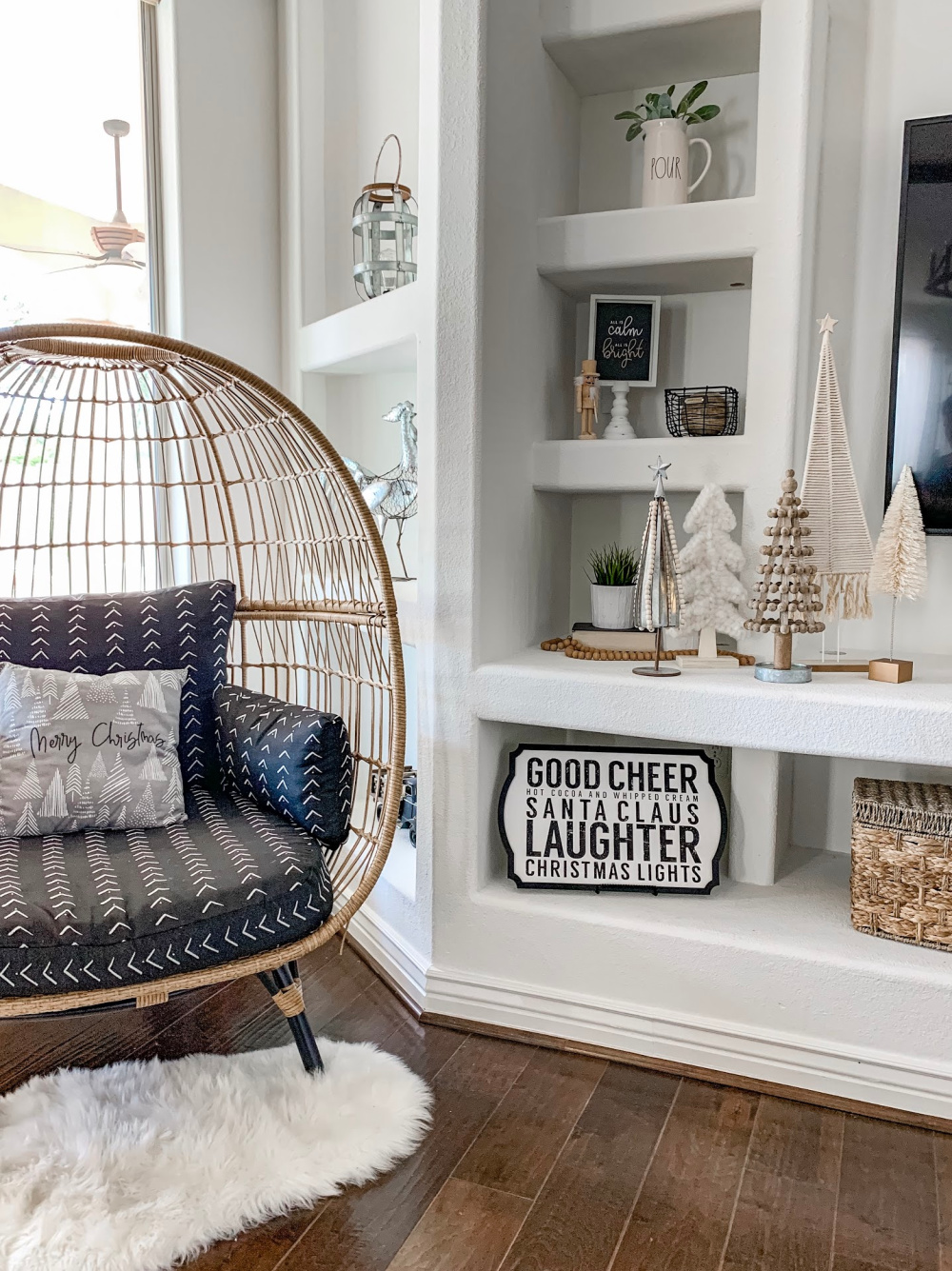 Another questions asked a lot on my FB and IG was where is the chair from…. it's actually from the Opalhouse Line at Target. I ordered it online. It was a total cinch to put together and we absolute love it. If I could just keep the little ones from hanging on it like monkeys, that would be awesome. 🙂
And all those cute boho mini trees are from Hobby Lobby also. Except the fuzzy one that lights up, it's from Joanns.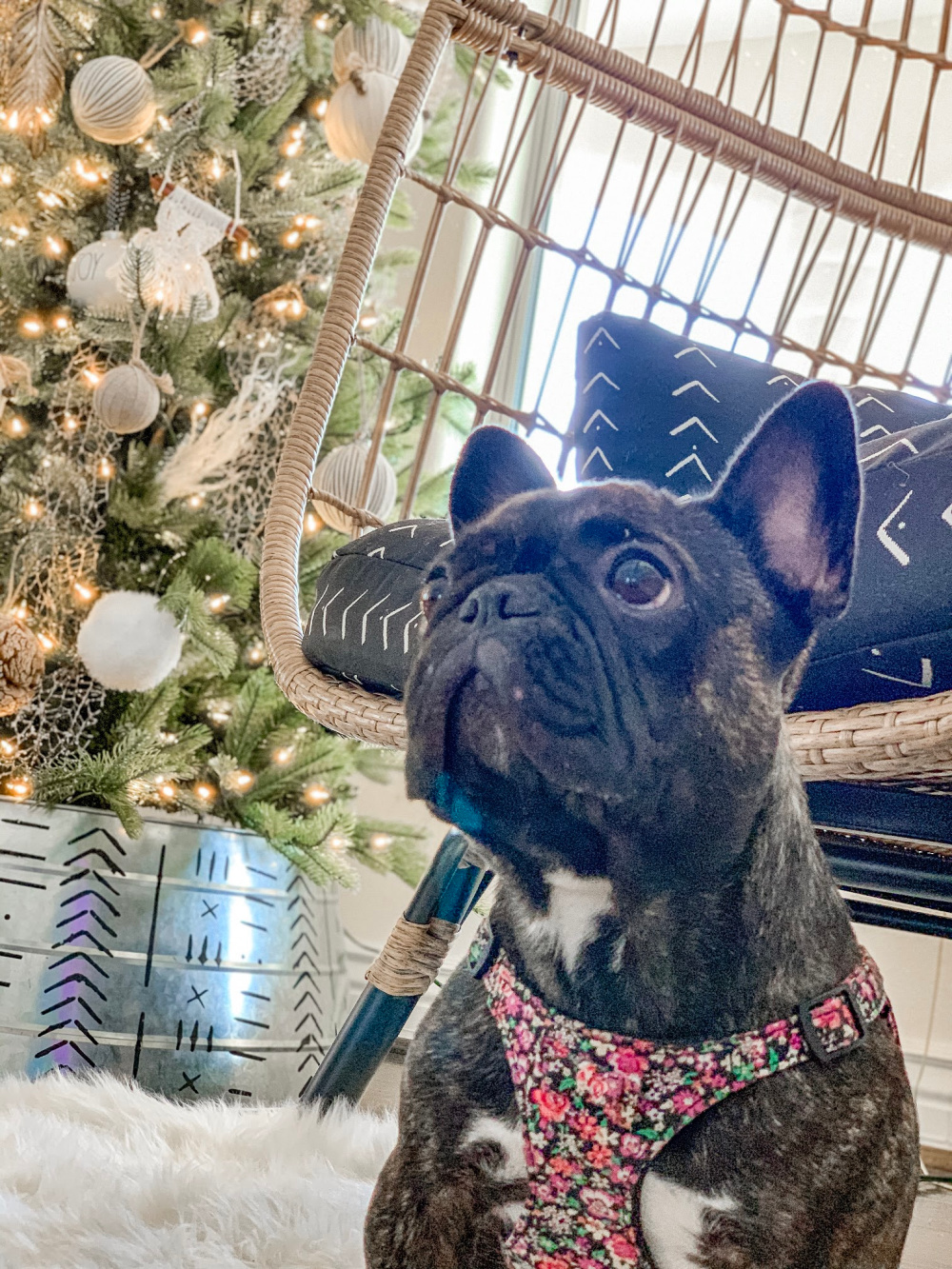 Meet Lexi. She's our little frenchie girl. So sweet. She's probably thinking… "mom, enough decorating and chalking all the things… play with me". 🙂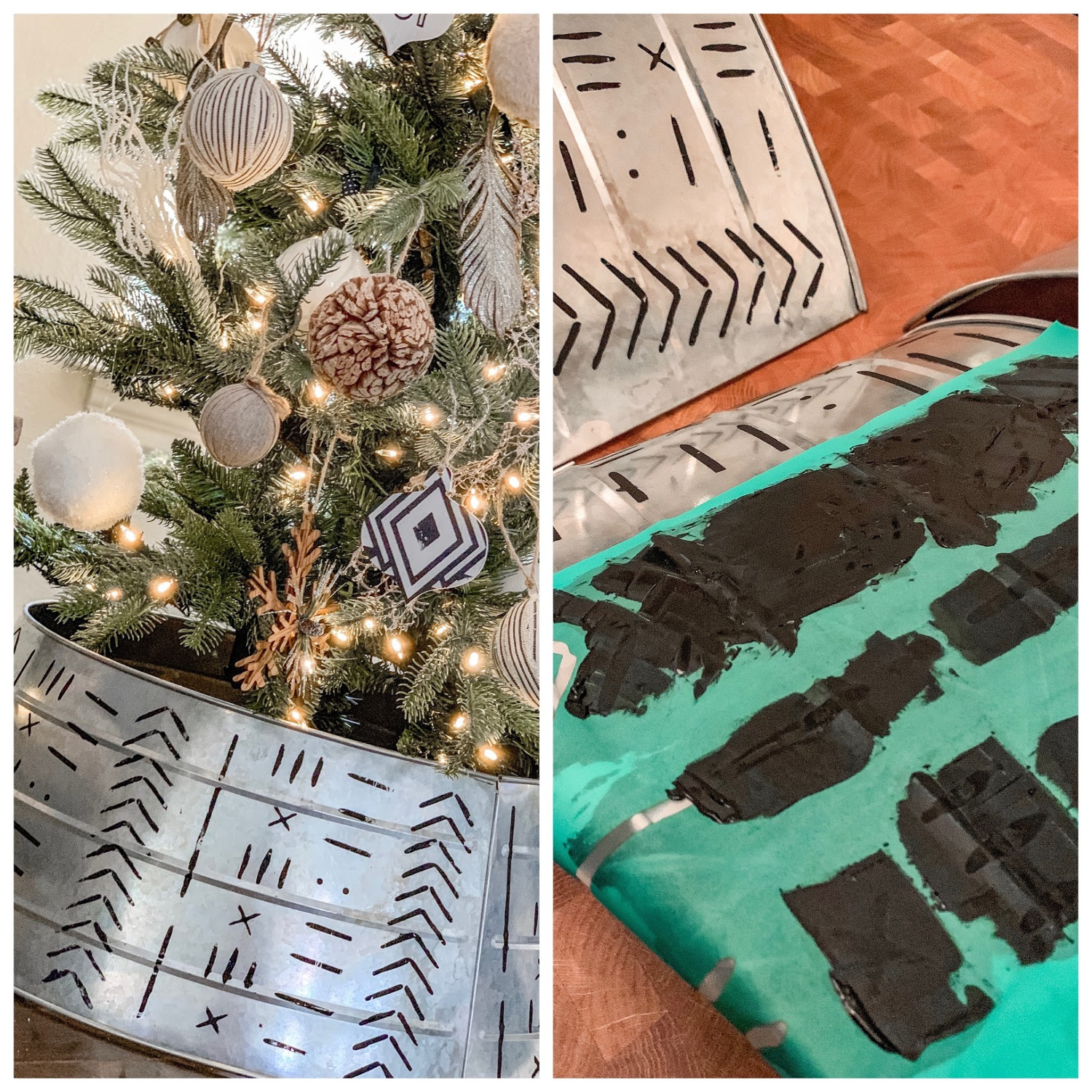 And here is a closer look at the Galvanized Tree Collar. I got it last year at Michaels and it just screamed Farm Decor, which I did a lot of last year. I didn't want to have to buy another tree collar (although I would have loved a rattan one) so I decided to chalk it with the mudcloth transfer, found here. I was super happy with how it turned out.
And that's a wrap. I didn't go crazy decorating everywhere this year. Some decor in the hallway, our front porch and dining area (all pics are on FB & IG if you want to see those) but we wanted to keep it on the simple side to avoid clutter.
Ohhh and here is what our house looked like for Christmas in 2018. Different house, different style, different decor… still lots of chalk of course. 😉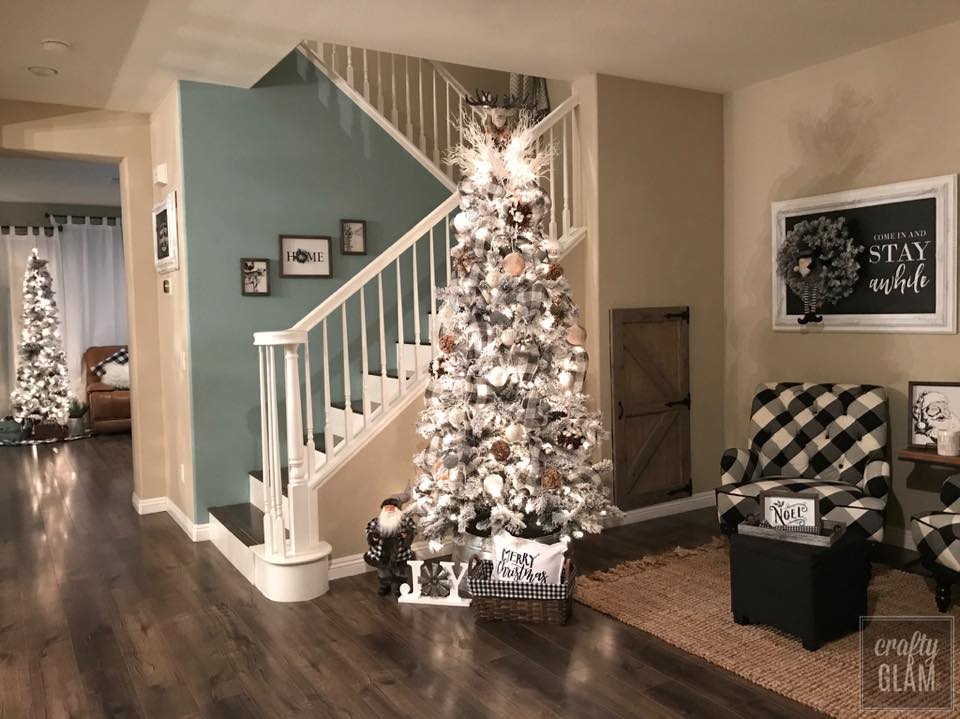 Thanks for visiting the blog! ~Mandy