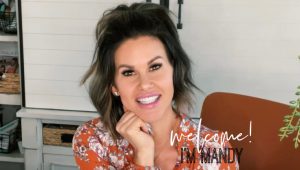 Hi there, I'm Mandy Leahy. I'm a Master Couturier, an Independent Designer with Chalk Couture. I'm a mom to 4 amazing kiddos (3 at home… ages 8, 11 & 13). After graduating college from Cal State University San Marcos, I worked in advertising sales and then went on to work as a project manager of a software company. Working hard, setting & achieving goals was something that I loved to do. So when I decided being a stay-at-home mom would be best for our family, I knew I needed something to keep me busy and have that feeling of accomplishment, in addition to my children, and that is where Direct Sales/Network Marketing came in. I love that can work hard, and achieve goals while being home with the kids. I knew if I found a company with products I am passionate about it wouldn't even feel like "work".
For me, crafting and home decor is my thing. I love chalking and sharing that love with others, by teaching them how to create beautiful things. And I don't know about you but I LOVE to draw on chalkboards for my kid's first/last day of school pictures and I always have a chalkboard out on the counter that I change throughout the year. But let me tell ya… it looks like chicken scratch. Haha! I always try my best but they just never look that great. That is… until discovering Chalk Couture. They offer chalk pastes and reusable silk screen transfers to make perfect chalkboards for any occasion (and they don't just have to be used on chalkboards). I'm seriously obsessed! Since I LOVE crafting, decorating my home, making gifts for others and teaching others how to do the same…. it was just so fitting for me with what I love to do.
Many people wonder how I manage to have kids and be able to work my business and build a Top Team but when you're passionate about something and want to achieve goals… you just find a way. My kids are huge cheerleaders for me. They get involved and help with what they can, they see me working hard to reach goals and I love being able to show them that if you want something and put your mind to it, you can achieve anything.
Thanks for coming to… MEET MANDY! If you have any questions at all, please reach out through my CONTACT page. I'd love to help answer any questions you may have or welcome you as a customer or team member!