This Chalk Couture Ice Cream Transfer is just too cute! I loved working with the layers and lining up the waffle cone with the ice cream scoops. You can really do it a lot with it.
*Ignore my scratchy voice in the video. It kept going in and out from having a lovely cold. 😷
My niece came over a few days after I made mine and she loved it. I said, "would you like make one?" She could not believe it was something she could do too. She thought I painted it. Psshhhh, I am not that talented. Haha! With these products you don't have to have artsy skills, you just slap some Chalkology Paste onto the Chalk Transfer, smooth it out with a little squeegee and peel it back to reveal the awesomeness.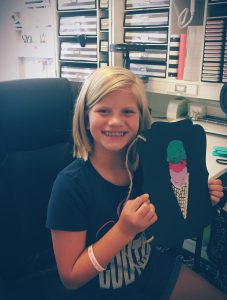 To browse/shop Chalk Couture products, visit my website here: https://CraftyGlam.ChalkCouture.com