How much is the Designer Kit?
We have 2 Designer Kits to choose from. The Standard Starter Designer Kit is $99 in the US and $129 in Canada, plus tax/shipping. And the Business Basics Kit is just $19.
Here is the Standard Designer Kit: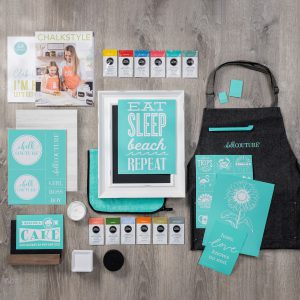 It includes:
6 Chalk Transfer designs in various sizes
Club Couture monthly Transfer
Bright White Chalkology Paste (3 US fl. oz. jar)
12 Chalkology Paste Singles in various seasonal colors (.19 US fl. oz.)
Couture Gallery Aiden Style White Frame (9" x 12")
Couture Boutique Board & Base (Black, 5" x 7")
Couture Boutique Chalkable Chips (Black, 12-Pack, 3", Round)
Color Trays
Small Squeegee
Mini Squeegee
Multi-tool
Fuzzing Cloth
Spring/Summer ChalkStyle Catalog 2022
Chalk Couture Apron
*Standard Starter Kit contents are subject to change based on new product releases and availability. The Standard Starter Kit retail value is approximately $250 USD/$329 CAD.
Here is the Business Basics Kit: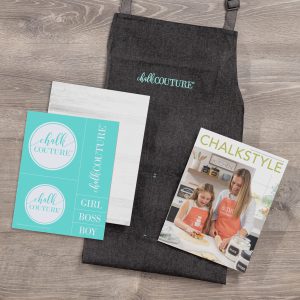 It includes:
Designer Start-Up Guide, Spring/Summer ChalkStyle Catalog 2022, apron, and one business builder Transfer. $19 USD; price adjusts monthly in Canada. Taxes and shipping additional.

What are the quarterly minimums as a Chalk Couture Designer?
As a Chalk Couture Designer, you need to have 100 personal volume per quarter. Easy enough, right? I think so. It can be from sales, personal purchases or inventory orders. Chalk Couture quarters are standard calendar quarters (January thru March, April thru June, July thru Sept and Oct thru Dec).

Do I get a discount on my own personal purchases?
Yes, you sure do… and get this, it's 40%!! Yes, FORTY percent. Crazy awesome, right?! The prices in our back office already reflect the discounted pricing. No need to wait for a commission to come, you submit it with the discount already. And when you join, you get a 15% off one time use coupon to use within your first 60 days. That's even off of the 40% off Designer pricing. Score!

What is the commission structure as Chalk Couture Designer?
Commission/Discount: Orders that you submit in the back office, will be at 40% off. If an order is placed on your Chalk Couture website, then you'll receive a 25% commission and that is paid the following month on the 15th.
Designer Dollars: You will earn $20 Designer Dollars (product credit) for EVERY 200 pv that you sell/order in a month. Ex. Sell 800 and you'll earn $80 Designer Dollars. The Designer Dollars will be loaded into your back office on the 15th of the month. You have 60 days to use it… you can use it little by little or apply it all at once. If you were to have over $2000 in sales, you get a SAVVY SELLER BONUS and earn a $200 CASH BONUS on top of the Designer Dollars that you earn. It's actually 10% of your sales over 2000. So if you had 3500 in personal volume, you'd get $350 CASH BONUS. And that's not all… if you have over 4000 in personal volume, that bonus amount bumps to 20%… an $800 CASH BONUS! And since it's 20% of what you sell, if you sold 20,000 in personal volume that would be a $4,000 CASH BONUS. WOWIE, right?!
Career Plan: We have an amazing compensation plan. I'd be happy to send it to you if you'd like to check it out. Just send me a quick message and I'll get it to you. You can even earn a $500 CASH BONUS for hitting the Master Mentor Level. Just to give you an idea of what is required to hit that level… within a month, you'd need 400 in personal volume, 5 qualified designers on your team (qualified = the designer needs 100 in personal volume for the month), 8000 team volume (between you and your entire team) and 1 Mentor under you. The qualifications of a Mentor are 400 in personal volume, 3 qualified designer on your team, and 2000 in team volume. Who wants a $500 BONUS?!

What kind of training will you receive as a Chalk Couture Independent Designer?
In additional to all the training videos I regularly provide the team, Chalk Couture Corporate has a whole series of training videos in our Couture Connect app. You can access it via your phone, tablet or even desktop. There is also a Mentor Title and above Group called Chalk Couture Emerging Leaders that Chalk Couture runs. This is where corporate does additional weekly leader training to keep us full of ideas, informed about company announcements, etc. This way we can be the best leaders for our teams. You'll also receive some getting started emails from Chalk Couture when you join. In addition, I am available to all of my team members (and their team members) via facebook messenger, email, our team page, phone, text, etc. Our Facebook Team page is full of ideas, inspiration, training, incentives, and much more. We have a large team that is all over the United States and Canada… everyone is so very helpful to one another. In addition to my team page, I will invite you to my direct upline's team page full of more ideas and training and the Chalk Couture Designer page. Everyone is so helpful with answering questions, sharing ideas, posting event pictures, vendor setups, expo pics, etc. You'll love being apart of this company and the Glam Chalkers Team.

What is Designer Debut?
Our Designer Debut program is so generous! It's broken up into 3 levels. For the first level, you have your sign up month, plus one additional month to reach it. Then the following level will begin after that (it's technically your 3rd calendar month as a Designer), and then the following month would be when you'd have your level 3 goal. You have an opportunity to earn 3 different phases.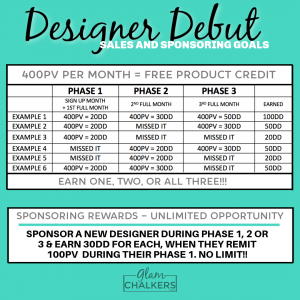 Here is an example:
Let's say you join Chalk Couture on February 15th… you'll have February and March to reach the Level 1 goal of 400. If you hit that, you'll earn $20 Designer Dollars. This is in addition to the Designer Dollars I mentioned above that you can earn monthly. Then to hit the Level 2 goal, you'd need to have an additional 400 in sales in April. If you do, you'll earn $30 Designer Dollars (in addition to the monthly DD you'll earn). Then to hit the Level 3 goal, you'd need to have an additional 400 in personal volume in May. If you do, you'll earn $50 Designer Dollars (in addition to the monthly DD you'll earn). If you reach each goal in the appropriate months, then you'll earn the full $100 Designer Dollar, on top of the DD Bonuses you earned each month. If you miss a phase, it's ok. You'll still get paid out on the phases you do earn (see chart above). It's amazing! I do have a detailed video to walk you through this in the team page as well.

Can I earn EXTRA incentives?
Of course you can!!! The first way is with the Designer Debut incentive (see above). There is even opportunity to earn Incentive Trips, as well as Designer Dollars (product credit) each month based on your monthly sales. Plus those on my team get an opportunity to win the monthly incentives that I offer.

I see that there is a monthly fee of $19.99 when you're a Chalk Couture Designer, what is that for?
With the $19.99 fee, you'll receive a Club Couture Chalk Transfer sent to you each month.  They are mailed out to us at the beginning of the month. You will also get a Chalk Couture Website, where you can accept orders and have people join your team. In addition to that, you get access to loads of Training and even an app to help us with our Designership. This is a Designer Only App that can be downloaded in the App Store for Apple and Android devices.

I'm not interested in selling… Am I still able to join?
Of course, we love Hobbyists!!! You can join and get this awesome kit and then have a fab discount on all your purchases. However, there is a monthly fee that we pay and this includes a Club Couture Transfer sent to you free each month (autoship) and you get your website, training and point-of-sale app. And then just the low quarterly minimum of 150 that has to be met to stay active.

Are consultants required to keep an inventory?
No, you are not required to carry an inventory. However, if you plan to do vendor events or expo events where you are able sell product, I would suggest it since you can purchase your inventory at 40% off and sell at retail.

Am I able to resell the items that I make using Chalk Couture products?
Yes, you definitely can. Some people work their entire business this way. They purchase transfer and chalk paste, create gorgeous pieces and sell those pieces. I would just be sure to mention that they are Chalk Couture designs.

How do I sign up?
It's simple, you can SIGN UP TODAY on my website! Just go to www.ChalkCouture.com/CraftyGlam and click on JOIN up at the top. The sign up process takes only a couple minutes and you'll be set and ready for business in no time. If you're wondering what the store name is, that is the name you'd like your username to be. Ex. Mine is CraftyGlam, so my website is ChalkCouture.com/CraftyGlam. Some Designers like to use their name. Use what you'd like and it will let you know if it's available or not. Please let me know if you have any questions… I'm here to help!