Are you interested in becoming a Chalk Couture Designer? Just FYI: Designer is what we call our Independent Consultants or Reps. Would you like an opportunity to earn some extra money or even replace your full time income, earn incentive trips, get a 40% discount on your products, and/or even earn FREE product credit every month? Or are you thinking about becoming a Designer to take advantage of the awesome Designer Kit, get the generous discount and can meet the low quarterly minimums with your own purchases and maybe some friends? Either one, there is a place for YOU on my Glam Chalkers Team and I'd LOVE to have YOU a part of it.
Chalk Couture officially launched on July 1st, 2017. However, there were beta designers beginning Fall of 2016. I joined Chalk Couture just prior to the official launch in June 2017. As soon as I saw these products being shared on social media, I knew I had to get my hands on these products. I had never seen anything like it. I was used to using a Cricut and spending so much time weeding the vinyl pieces or failing at my freehand chalk designs. When I saw how easy it was to do, and how you could create an amazing project in a matter of minutes… I absolutely JOINED right away when I saw that there was a Designer Kit option. It was a no brainer. As soon as my kit arrived and I got to play, I was instantly fell in love and couldn't wait to share these products and this amazing opportunity with others. And let me tell ya, people are LOVING it.
Here are some reasons why you should become a Chalk Couture Independent Designer on the Glam Chalkers Team.
Be apart of an Master Couturier Level Team that spans all across the US and Canada.
Receive an awesome Designer Starter Kit full of Chalk Transfers, Chalkology Paste, Chalkboards, Apron, Squeegees, Business Supplies and more for ONLY $99 in the Us and $129 in Canada!
Opportunity to earn a generous income (more info on the FAQ's page)
Earn Designer Dollars (product credit) every month you have 200 or more in personal volume.
Earn extra Designer Dollars when you meet Designer Debut goals within your first 3 full months as a Chalk Couture Designer.
Join My Team as a Hobbyist to get a discount on your purchases.
You can choose to make it a career, part time job, or just to help pay for your Wish List. Whichever you prefer… Chalk Couture & The Glam Chalkers Team welcomes you!
The opportunity to be apart of a helpful, supportive, encouraging team and meet lots of friends.
Access to tons of training videos I have put together for the team.
Be apart of our Team Facebook Group, Team Training Groups and the Chalk Couture Corporate ran Facebook Group. It is super helpful to interact with the team/company, ask questions, share photos/ideas, get training, be apart of monthly incentives, and more!
Low quarterly quota of just 100 personal volume. That can be from personal orders, customer orders or even inventory orders.
Set your own schedule, work from home and be able to work around your priorities.
Receive a Club Couture Transfer sent to you monthly.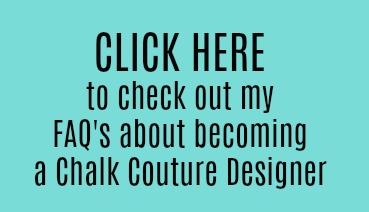 Ready to sign up?! CLICK HERE and then click on JOIN up at the top. My Sponsor ID is: CraftyGlam.
Please let me know if you have any questions… I'm here to help!